Hey guys, Happy Wednesday! Remember back in January when I was all gung-ho about getting to use my lunchbox again. I was so excited to be able to pack a healthy meal to eat during the day at my school placement, to show off my new lunch skins I'd gotten for Christmas, and just generally get back into eating a regular lunch... well let me tell you that is not how things work in the school system.
My lunch went from 15 minutes between meetings the first week to it's current state of whatever I can stuff in my mouth between students. I knew working in the schools was go go go all the time. I just didn't realize all the time was literally
all the time
!
So this week I'm sharing a typical day of eats as I go through my day as a SLP intern (student clinician, graduate clinician, SLP student whatever title you want to give me). These are Monday's eats from beginning to end.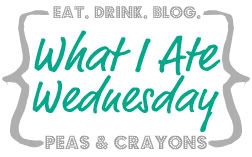 This week is lacking the peas, but my kids and I
have been playing with crayons!
Breakfast has been a smoothie (made in my new Ninja single serve cup!) and a mug of tea. I can drink both on the road while waiting for trains driving to school and finish whatever I don't while pulling materials for the day.
I usually have something to copy for the day, and while I'm picking up my papers I swing by the coffee pot to refill my mug with hot water for mug of tea number 2! I have one mug of black tea first thing in the morning and then switch to green or herbal (yes I totally have a tea schedule... don't act surprised).
If there wasn't one in my smoothie (depends on the day) I usually take a #publicbanana break after my first few students. More often than not it takes an hour to get through the nana as I eat it 1-2 bites at a time (I get maybe a minute walking down the hall searching out kiddos to eat).
Lunch is the rest of my banana and a couple of energy bites. I load these things up for a reason I seriously need the energy to get through the afternoon! If I have extra time I might munch on a cutie or some carrots but usually those are saved for the afternoon commute.
Needless to say by the time I get home, have a workout, and help make dinner I am more than ready to eat!
Trends for the day... lots of tea! Also lots of really small bites (which I already knew) and a lot of my food at the end of the night which I'm not super crazy about, but whatcha gonna do?