Hey guys! I feel weird saying Happy Hump Day since it's my first day actually going to work this week (gotta love that crazy Chicago wind). Some of my
favorite
people
have been posting lately about the ethics of editing photos, and how even unintentionally we can change the appearance of reality.
Since
What I ate Wednesday
is supposed to be a day free of judgement (as long as you eat your veggies!) I decided it would be a perfect time to share some photos with you that highlight my personal reality.
By no means are my photos perfect, but even I can see the difference between a photo taken on my phone, with poor lighting, and smeared dishes as compared to one that I've staged for shooting with my camera and corrected the lighting on.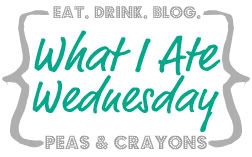 Today I'm posting both, side by side, because it's time to keep it real. Though I personally love seeing everyone's beautifully edited photos (and I probably wouldn't be as inclined to try a recipe if the picture DIDN'T look good) I think it's just as important to see how people eat day to day.
Same
Banana Bread Pancakes
. Same crazy amount of butter. The only difference is I got to eat the one's on the right while they were hot... and at 6 am. Seeing as it's breakfast there was an (unpictured) mug of English Breakfast tea because I don't start my day without my tea.
Leftover tomato soup with Cheddar Scallion Biscuits (which are still in testing). Let me tell you the biscuit and soup tasted just as good in my unwiped bowl while I was sitting on the floor watching Food Network. In fact they were so good I might have gone back for a second third biscuit...
I can't take credit for the recipe (it'd have to be more of a how-to) since this is a veggie fried rice my dad and I just kind of threw together one night. The veggies were crispy, the rice was toasty, and the whole bowl was just warm and delicious. Didn't mater if I was at the table or sitting on the couch watching the news with my parents.
So there you have it, a rundown of pictures that are "blog-worthy" and their realistic partners. Still a delicious day of eats, with veggies and butter and cheese and tea, just a little extra bite of reality for you.
What's your thought on editing food photos? How far is too far (or is there a limit)?