Hey guys! I've managed to make it a week at my placement without becoming known for my
"weird"
eating. It must mean I'm doing something right, right?
Not that you guy's are ones to judge (I've seen some of the things you eat!), but what better way to check in on my current eats than with a
What I ate Wednesday party.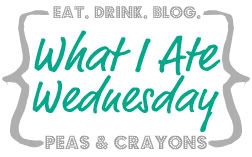 I've been doing
awesome
with my fruits and veggies this past week, managing to squeeze extra portions of both into every meal of the day! When it comes to the sweet stuff I've been sticking to apples and frozen berries, though I did have my first ever grapefruit this week (it was sweet and tart and amazing!) Someone tell me why I waited 24 years to try those?
Dessert: Half a ruby red grapefruit
Second Breakfast: The ever present apple and almond butter combo
Besides sneaking into breakfast, veggies have been the bulk of my other meals this week. Lunches have still been of the handheld variety (because lunch in the school seems to be hit or miss in terms of frequency and length) which is fine because I actually have been seeing kiddos this week. Time spent working with an awesome group of students == way more fun than a regular lunch break :)
Lunch: GF wrap filled with spinach, broccoli slaw, and honey mustard dressing
Dinner: Stir fry (there's a bit of chicken in there somewhere) with loads of broccoli and red peppers
I might have snuck a little more fruit in with my chocolate one night... but we'll talk about that little treat tomorrow :)
How have you been doing with the good stuff this week? What's your favorite fruit this time of year?