Hey guys! I feel like it's been forever since I joined up with the
Party
over at Jen's, but I had to break out my lunchbox today for the first time in a long while, and I just couldn't resist. Because what's better for the blogger who want's to actually show you Wednesday's day of eats, than having to plan my eats in advance to carry with me.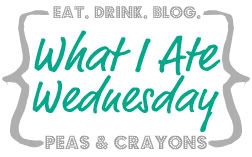 I officially start my school placement today (now that we've moved into positive temperatures in Chicago) which means I get to spend the rest of the next 6 weeks working as an SLP (in training) at a local elementary school. Needless to say I'm thrilled!
I have no idea what to expect in terms of scheduling or workload at my site, so I want to make sure I've got a good breakfast in me in case I'm going all morning.
Making a big batch of oatmeal on the weekend allows me to have "instant" oatmeal ready to go in minutes all week. Today's was topped with fresh cranberries, honey, and sliced almonds. Sweet, tart, crunchy, and delicious!
Of course I loaded my travel mugs with tea to last the morning. My commute may be much shorter (literally 10-15 minutes as opposed to almost an hour!) but it's still chilly out there, and this girl needs her tea. I've got one mug of a green and white blend and another mug of peppermint, lots of oomph with only a trace of caffeine.
I wrapped up a bunch of kale with some random leftover chicken and lots of honey mustard dressing. Wraps area a great grab and go option when I'm not sure what the day will hold, and this was a great way to work extra greens into my day. Plus I get to show off my new lunch skins from santa ;)
In case the day is just too crazy I've got a twist on my usual standby as well. Almond butter (by the jar of course) with freeze dried apple chips. They've got a funny sort of texture (almost like cheetos?) but they taste just like apples so that's good enough for me.
Chex chicken "nuggets" (my mom doesn't like nuggets so we make pieces), more honey mustard, leftover mashed potatoes, and peas make for a well balanced dinner (it almost looks like a TV dinner, minus the sketch factor). Simple comfort food really is the best sometimes, especially when I don't have to do the cooking (just the dishes).
And what better way to finish the day then with the rest of my GF cookie dough (I've asked my mom not to buy it anymore but since we already had this tub...).
Any other lunch box lovers out there? What's your favorite thing to pack when you don;t know what to expect in a day?