Happy Wednesday everyone! I have a hard time believing it's the middle of the week already! With things quickly shifting from things I HAVE to do to things I should be doing I've found a bit of a struggle with my motivation... In fact I'm looking forward to my diagnostic this evening simply because it will give me something to focus my attention on while I screw my head back on straight...
But you didn't come here today for my to-list (that's Mondays folks!) you came for the food! Wednesday is my favorite day to get motivation because nothing gets me motivated to hop back on the blogging train faster than drooling over the deliciousness that
everyone else
is eating.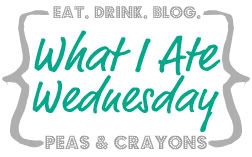 This week for me... not so much. As usual I've had a lot of tea, including this addictive new tea Cinnamon Tempest from my favorite TJ's. It's sad really, I went there for food this week and ended up leaving with 3 boxes of tea... I might have a problem.
And yes the bottom right is me with my teacup at the school clinic... doesn't everyone bring their tea to class? The answer apparently is no, but everyone was obviously jealous of my mug of cinnamon deliciousness so the jokes on them :)
I've also been eating my favorite apple and almond butter combo like it's going out of style... and I may have broken into someones Christmas present yesterday when I was wishing for some chocolate... at least I ate real food for dinner?
Looking back at the eats from this week is a good reminder that I should probably eat more real food on a regular basis (don't tell the BF I said that, he'll gloat). There's a difference between healthy snacking throughout the day and eating a random assortment of what's in your bag... I don't think I have to let you guess which one I've been doing this week. At least I'm well hydrated?
Have you fallen into a food rut lately? What's your favorite grab and go snack?