Hey guys! Hope you all are having a fabulous week so far, and if not at least it's almost over? I'm keeping things short around here since I'm supposed to be
cramming
studying but breaks make you a more effective studier (I think that's a scientific fact?)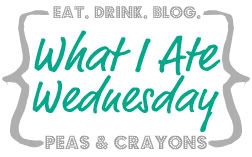 Anywho today's the day for delicious eats and since I've been going at the books like crazy trying to finish the semester on a good note, my eats have been a little crazy this week (it's okay because at least I'm not
hallucinating
...yet). They're also a little heavy on the leftovers because there is literally nothing easier than food you can grab straight from the fridge.
Like giant bowls of apple cranberry crunch, a cross between a crisp and a fruity baked oatmeal, this is a staple at our Thanksgiving table and I always get dibs on the leftovers!!
Or salads made with the piles of leftover greens my Aunt gifted (?) us for hosting (never question free salad greens, just take them and enjoy!)
Of course multiple mugs of multiple teas were consumed throughout the course of the day? What else would I use to keep my sleep deprived SLP-brain running?
(Thanks goodness for free refills on hot water!)
A quick jar of chili (made for my brother before he got on the bus back to school) re-heated in my oh-so-favorite school microwave. Bright side of this being the last crazy week we have on campus... a lot less time spent in our basement of a clinic!! I may have been so excited that I forgot to photograph said chili until after I'd eaten it... but I will say it was delicious!
And what better way to refuel for a late night of studying (and writing that darn voice paper I keep talking about) than a mug of hot chocolate, in front of the tree of course.
Leftovers, yay or nay? Anyone else ready for this week to be over?