I've kind of hit a point of not knowing what to do with myself this week. I don't have hours at my clinical site because my supervisor is out of town. I don't have piles of studying to do because I passed the praxis. It's been a long time since I've had this kind of free time and I have to say it's kind of nice.
Someone else who had enough free time to make sushi and host a party this week?!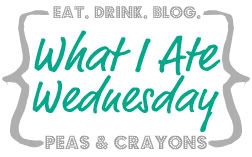 Be sure to stop by and say hi (after you're done here of course)
I actually have (mostly) pretty pictures this week because I've been trying to fill my free time with cooking and photographing to my little hearts content. I've had goodies like this little spiced apple crisp.
There's a kick in here I can't wait to share.
I've even had time for a second breakfast of tea and toasted banana bread that my mom made over the weekend. I never thought I'd have a day with enough time for a first AND second breakfast but I have to say it was a wonderful treat (mostly because I love breakfast).
Don't judge my love of butter :)
Lunch was a delicious bowl of super green rice, which is my fancy name for rice "fried" in coconut oil, with onions, peas, and kale. Quick, warm, and filling it was a perfect bowl for the chilly winter-ish days we've been having around here.
A quick #publicbanana rounded out the afternoon on my way home from clinic. Driving all the way down to school for a half hour (which is really 25 minutes) of therapy on Tuesday's was even more painful that I didn't have a reason to hole up in the library down there before and after my sessions... but whatcha gonna do?
That's right smile and eat a banana
Plus I still get home pretty early, so I can't complain too much. Lucky for me I came home to nacho night last night! We had leftover chicken verde from last week which was perfect with chips and piles of cheese. Add in homemade salsa and toppings of your choice and call it a meal.
There is no such thing as too much cheese.
I have to say as weird as it is, I'm kind of liking the quietness that I've had this week. I miss my clients for sure, and I can't wait to really get back into the therapy thing next week, but extra hours to do some more yoga, take a bath, and read a book for the fun of it has been wonderful. Wonderful enough that I'm even more excited to be done and actually working next year (instead of working at clinicals, going to classes, and working part time like I am now).
But that's enough wishful thinking for the day :) Happy Wednesday lovelies!!