Happy Wednesday everyone! I'm keeping things short and simple this week 1) because I don't have that many photos to share and 2) because I have fun things planned for this morning (more on that below)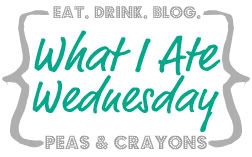 Like all other Wednesday's be sure to stop by the party at
Jenn's
(she's the queen of all things veggie and her chickpea has the cutest smile, no joke!)
After recovering from all the headache craziness last week I've been trying to keep things a little cleaner. While I don't cut sugar out of my diet on a regular basis when my system goes into overload a little cutting back never seems to hurt. Adding in extra fruits and veggies is good to.
Especially bananas of the public variety
And apple cranberry crunch (2 fruits in one!)
And more apples mixed with apple butter and EXTRA cinnamon.
Veggies were found in (and under!) Tzatziki sauce.
(we put this on roasted veggie wraps that I may have been too hungry to photograph...)
Tostada Tuesday with extra veggie fixings!
Now the other reason I'm keeping it short and sweet this morning... if you follow me on
Instagram
(which you totally should be doing, because you love me) you'll be getting updates all morning of my adventures in the kitchen. I actually set aside a few hours before class to just enjoy myself and see what comes of it, things could get crazy!
Remember that
Chopped Kitchen Challenge
to use all the flavors of fall this month? Well I'm getting a head start on my cooking so I can actually share some recipes this time (I know, shocker right?) which means you can get a teaser of all the tastiness I'm dreaming up (as long as you promise to come back at the end of the month to share your own, deal?)