Happy Hump day! This week has flown by so far (maybe it's all the running...all the drinking... all the paperwork? who knows but whatever it is it's working!)
Today is the day where we celebrate food. The day where it is okay to drool over our laptops. The day where I realize that although my picture skills are coming along, they still have a long way to go (seriously could you all stop being so amazing? Kthanks) That's right it's What I Ate Wednesday!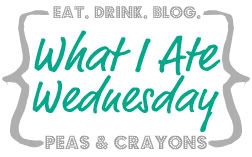 Be sure to go visit
Jenn
and the Chickpea (they're cute enough to make your day)
Breakfasts have been the best part of this week (let's be honest most of the time they're the best part of the day!) Getting up earlier to run has the added bonus of getting me out of bed in the morning. Which means I have time to sit and eat breakfast rather than drinking it down in the car.
Van's Gluten Free Waffles topped with cinnamon butter and local farmstand honey.
Banana "bread" french toast and a mug of Pumpkin Spice tea!
The banana bread was my intended breakfast for this week. I also had plans to share the recipe... BUT this was supposed to be my pretty loaf to photograph and I forgot to add any sort of leavaner... sooo it's super dense and not so pretty. But it tastes really good crisped up in some coconut oil and topped with extra cinnamon!
#publicbanana also known as a #roadnana has been the name of the game during morning and or afternoon commutes. They're a great pick me up when I have to go straight to class from clinic or from class to work and I've come to rely on that 45 minute drive to eat/digest them if I plan to run when I get home.
Side note if you haven't taken the worlds favorite phallic fruit to out for a spin yet you are seriously missing out. Seriously it's a revolution, and you should probably get on that :)
My favorite lunch (which I also had for dinner one night) was a wrap of mixed shredded veggies leftover in the fridge, topped with a unhealthy amount of peanut sauce (I didn't picture the extra sauce because I'm a messy dipper!). I may or may not have eaten a bowl of the veggies and peanut sauce without even bothering to wrap it in the tortilla yesterday :)
Dinner last night was a cheesy, eggy, slice of spinach pie heaven. (with a description like that do you need more of an explanation?)
And then there's the snacks. I've come to enjoy a drink while doing my paperwork or working through Praxis practice sets in the evening (not sure what that says about my study habits...) and what better to go with a crisp fall drink than some of my favorite pub cheese and some very fall looking TJ's veggie tortilla chips. The chips aren't my favorite (I prefer the plain ones) but you have to admit the colors are pretty!
Do you have a favorite fall snack or drink? Ever taken your fruit on the road?