Happy Wednesday lovelies, it's time for our weekly dose of voyeurism where we can stare down everyone else's food, drool all over our laptops, and know that we're in good company. That's right we've made it to another What I Ate Wednesday (hosted as always by the lovely mom-to-be
Jenn
).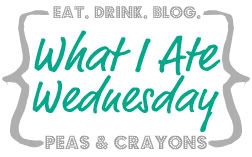 I headed back to classes this week, and with it back into my long days living out of whatever I can fit into my lunch box. I don't start my clients at school until next week and my clinical rotation for another week after that (though I'm training there on Thursday). But there's been plenty to do down at school so lunch box eats it is.
Breakfasts have been smoothies on commute days and cereal messes on the few day's I've been working/hitting the library around here. I may have thrown in a
#publicbanana
or two for good measure.
Cereal Mess with Chex, caco nibs, almond butter,
flax seeds, dried cranberries and almond milk
Lunch has been the same every day (which is what happens when I find something delicious and easy and fall in love with it).
Hummus, tomatoes and spinach all wrapped up in
the best GF tortillas I have found so far!
Dinner has included everything from salad in a jar (we have a night class on Monday's so portable dinner is required) to salmon and fresh green beans at home. What can I say I like a little variety (and a lot of green stuff!)
The best thing I've had so far this week HAS to be this little gem...
which will be revealed with the link-up tomorrow
(a shameless self plug on my part I know!)
Who (or what) has you drooling this week?
Do you brown bag it to work/school?
What's your favorite lunchbox treat?