Happy Wednesday! It may have been a few weeks since I linked up but as a general rule I hate to miss out on a party, and that's what happens at
Jenn's
every Wednesday :)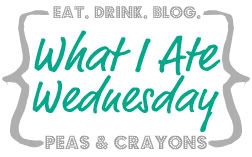 Food this week has been plain and simple. I'm focusing on really trying to settle into good eating habits before school craziness starts again. I usually compile some of the prettiest photos of the week to get a representation of some of the goodness I'm eating. This week I have an entire day of eats for you (Tuesday's to be exact) from the first sip in the morning down to the last nibble of the night.
Mornings start the same (most days) during allergy season.
A big glass of H2O with some apple cider vinegar and raw honey stirred in.
It does an excellent job getting the sinuses cleared for the day let me tell you!
(bonus points for drinking it down during yoga!)
While drinking that down I'll take my daily anti-migraine cocktail plus my fish oil.
(That's fish oil x4, daily multi vitamin, magnesium, and COQ10)
I followed it with a strawberry, orange juice, banana, spinach smoothie
which I drank throughout my morning session at job #2.
It's never as pretty once it's been blended...
Since I sipped down that giant smoothie all morning
I only needed a few of these peanut butter protein bites to carry me
through the first round of studying this afternoon.
I heated up a little leftover mexican quinoa for lunch round two
before hitting the books again for the rest of the afternoon.
(when we made it this weekend it was stuffed in giant fresh tomatoes, which makes it even better)
Dinner was a quick and simple bowl of white bean and kale soup.
Topped with a healthy amount of parmesan cheese.
There were a few of my favorite tortilla chips from TJ's on the side
but since they were mostly crumbs I didn't bother with a picture :)
And that's about it. No staging, no minimal editing, and lots of everyday deliciousness.
Are you a big meal eater or more of an all day grazer?
Usually I graze more (especially while studying)
but I guess I managed to stay focused today?