Happy Wednesday everyone! I gave you a rundown of most of the goodies I cooked with the BF
this weekend in yesterday's posts, but I saved all the pretty food for today :)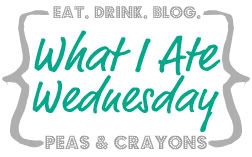 (meat, as much as I like it, is always going to be brown which is hard to make pretty)
Thanks as always to the lovely
Jenn
for hosting this weekly eating party!
Eats so far this week have included lots of fruits, veggies and hummus :)
And as always I've made up a few collages to put it all together!
Strawberry smoothies
banana nut muffins
crispy cranberry almond granola.
Texas caviar (beans, tomatoes, corn, avocado)
Tortilla Flax chips, pub cheese, edamame
Carrots, cucumbers, tortilla chips, and extra garlicky hummus
Strawberry sundaes (for national ice cream month!)
Road berries (because why not?!)
Strawberries with a side of yolk porn :)
If you're not linking up (and you should because it's where all the cool kids go on Wednesday) let me know the best thing you've had to eat this week in the comments!!