Sounds like some strange sort of self help or diet book doesn't it? In truth that's been me all week, enjoying the space of my aunts kitchen, holding back from the puppy's begging, and generally loving the chance to make and eat what I want when I want (and generally take over the fridge!)
It has been an incredible week of eats over here and I'm so excited it's Wednesday so I can share them all with you!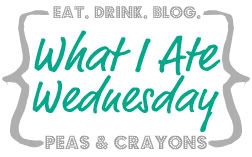 Be sure to stop by Jenn's to see everyone elses eats!
Breakfasts this week have been a mix of the traditional green smoothies, with a few fun fruity ones mixed in.
Frozen strawberry puree, raspberries, frozen banana, vanilla almond milk
Raspberry sorbet, frozen mango, banana, spinach
Spinach, celery ginger juice, apple juice, ice
Lunch has switched up between salads and wraps depending on the schedule of the day
Spinach and romaine topped with cucumber, tomato, sharp cheddar cheese
Hummus, turkey bacon, lettuce in a golden teff wrap
Dinners have been pretty simple (it's just me after all!) but they've been fresh and veggie full.
Sweet potatoes with spicy cayenne ham, served over spinach with a fried egg
Stir fried vegetables with quick spicy peanut sauce
I may have picked up a few liquid goodies while at TJ's as well (like 3 bottles of wine worth)Don't worry I didn't drink them all :) I'm holding on to those until BF comes to visit again later this week!!
If you couldn't tell I'm loving not only having the puppy, but full run of the kitchen! It may be a little lonely here as a single girl but I am certainly getting used to it :)