Hi Guys! It's Wednesday which means another look into my life of food, this week I'm sharing my eats (and drinks!) from the 4th of July AND my weekend with the BF. That's a lot of food (and drink!) so I hope you're all ready.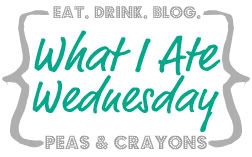 Thank you as always to the Lovely Jenn at
Peas and Crayons for hosting these shenanigans!
The was a massive spread of fruits and veggies and salads to choose from on the 4th of July.
\
Veggie platter, strawberries, potato salad, strawberry pretzel salad,
shrimp salad, watermelon, broccoli coleslaw.
As you can see I tried just about everything, plus a cheeseburger :)
Fruity things, burger things, veggie things.
And what's a celebration without a lot little to drink!?
Angry Orchard, my favorite hard cider!
Then we switch to the Dave Matthews concert this weekend.
The Bf and I had a quick picnic on Friday and an all day tailgate on Saturday.
Either way I spent the weekend eating pasta salad, crackers, veggies and hummus.
The pasta salad has the official BF seal of approval.
He even made me breakfast on Saturday morning!
Eggs with cheese, peppers, tomatoes, and ham
with a side of strawberries and raspberries.
I made my own jar'o'tea :)
Besides eating and enjoying the music there was also drinking this weekend.
Can you tell I don't get out much?!
Haha I swear I was drinking like it was going out of style last week :)
Mikes Hard (which is GF?! why did nobody tell me this!) in the concert
Baby bottles of wine at the tailgate!
What was the best thing you had to eat (or drink!) this weekend?
Be sure to link up to the WIAW party!