Happy Wednesday everyone! This is the first weekend in a while where I haven't had anything major to do :) I still had an exam to study for, lesson plans to write and a few hours at job #3 but comparatively that was nothing! That means I had a chance to relax, take some time for myself and enjoy some non-blended food!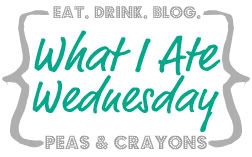 Be sure to stop by Jenn's to see what everyone else was eating (like you weren't going to do that already anyways!)
I enjoyed a refreshing strawberry-mint chia seed cooler on the porch one morning
(okay technically this IS blended... it's also pretty!)
Salad and a (lightly) loaded baked potato in the afternoon. Baked potatoes are one of my ultimate comfort foods, preferably loaded with garlic and bacon and butter and cheese (I'm 2/4 on this one). I did rescue some wilty looking green onions from our crisper to top it off though!
Road chips and hummus to eat on my way home from work. This prevents Hangry shopping at Trader Joe's when I stop in after work (job #3 is just so close!) And since the last time I went shopping there without eating first I ate the whole container of pub cheese... in the car...in the parking lot... yeah I try to avoid doing that on a regular basis.
The there was cheesy nacho goodness, loaded down with black beans, corn, and guacamole. This was really just a way to clear out the fridge (minus the guac which was fresh!) and a pretty darn tasty result if I do say so myself.
What was your favorite thing you had to eat this weekend? What's the best thing you've come out of the store with when you shop Hangry?