So this has been one of those weeks... I wasn't home when my mom went grocery shopping which means I missed out on getting anything from the store to eat (minus my hangry side trip to Trader Joe's after work this weekend, can I say how awesome it is that job #3 is right down the street from the nearest TJ's?!)
So between the lack of actual groceries (because lets be honest I'm not going to go buy my own food... my family thinks I take up too much fridge space with my "weird" food as it is) and the general amount of running around I've been doing trying to get things finished at job #1 before summer programs there and clinic at school start... I think I've had 1 actual "meal" since the week started.
Bright side of that is I'm still keeping my commitment to healthier eating before the BF comes back, so I have PLENTY of sensible snacks to share with everyone for this week's What I Ate Wednesday!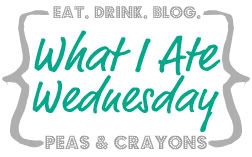 Shout out to the fabulous
Jenn
for inviting us all back to party week after week :)
Snacks this week have included the hangry
(multi-grain/seed tortilla chips and pub cheese opened before even leaving the parking lot).
(peanut butter "cookie" balls made with oats, PB, caco nibs, almonds, and dates)
(pre-exam smoothie of oatmeal, unsweetened almond milk, cinnamon, strawberries, and a banana)


And of course the veggies

(tons of baby carrots)
(snap pea
crack
crisps, which I can't seem to get enough of)
I've definitely kept my options open and grazed to my fill this week :) If I know myself (and I like to think that I do!) this pattern will probably continue on for the rest of the summer, at least on clinic days, which means I'll need to expand my snacking options at some point.
What's the snack you currently can't get enough of?