Hey guys, Happy Wednesday!! It's time for the weekly check in (hosted by the lovely
Jenn
) where I share all my eats with you and I get a little reminder of what I've actually been putting in my mouth this week. Win, win, right?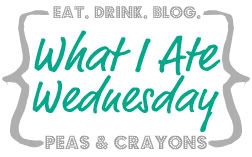 This was a very snacky day of eats, I munched my way through 4 little meals (and 1 huge salad) with tons of fresh produce and many mugs of tea for good measure.
First breakfast was a mug of ruby chai tea and a cereal mess (corn chex, banana, strawberry, chia seeds and almond milk). I enjoyed this while sitting out on our new balcony enjoying the sun before it got to be too hot.
Second breakfast was a quick batch of balls (oats, dates, protein powder, cacao nibs and honey). They gave me the perfect energy boost to start to power through the piles of paperwork I am still logging at work. There was a mug of ginger tea on the side (but my travel mug isn't as cute haha).
Lunch was a quick fruit smoothie (made earlier in the morning) which I drank while finishing up logs for the day (I only have like half a school left to log which is awesome, the end is in sight!!).
I had a quick snack in the car between the clinic and tutoring. Trader Joe's lentil chips with leftover black beans from when we made tostadas earlier this week. The chips weren't my favorite (I won't buy them again) but they did go pretty well with the bean "dip"
After driving home (through the start of the crazy storms!) I made myself up a giant salad for dinner before the Hawk's game started. It's hard to tell from the picture but that is a medium sized mixing bowl filled to the brim with romaine, diced tomatoes, cucumber, quick "croutons", and all topped off with a bit of ranch. Good stuff!!
I'm settling into the new space pretty well and life is finally winding down for the next few weeks. 24 days (not that I'm counting...) until the BF is back up here to visit which means I'm kicking the healthy eats and workouts (yikes!) into high gear because he's been hitting the gym (and dropping the pounds) down at school and no way I can let him be the hottest one in the relationship without a fight :)
What's the best thing you've done with your better half recently?