Hey guys! It's Wednesday which means I'm linking up with
Jenn
at Peas and Crayons for the What I Ate Wednesday party!! We're in the home stretch of this
living hell
crazy month known as "maymester" at school and I promise I have some actual recipes and workouts to share with you soon :)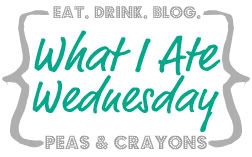 But for now enjoy my day full of crazy lunchbox eats!
Eggs, leftover baked potato quickly "fried" into hash. Topped with awesome salsa from my Foodie Pen Pal! So worth the extra few minutes of cooking to know I'll be full all morning .
Big Green Multi! (because when I start to run myself crazy I lose out on some of the veggies...gotta make sure I'm still getting the good stuff!)
Apple, Banana and a mess of Almond Butter. For class (if I don't eat it during the drive down there!)
Quick wrap with: Super Spicy Hummus, ham, brick cheese, and lettuce. To eat while driving back to the burbs for tutoring client #1. I've got a baggie of carrots with the rest of the hummus to munch as well.
Chicken quinoa (literally quinoa cooked in water/chicken base). It's the closest I've been able to get to GF pastina (which is a little star shaped pasta) which my dad used to make when we were sick growing up. Not that I'm feeling sick but I still associate it as one of the top comfort foods so it's nice when I'm busy.
GF snickerdoodle from my Cara Box! Because after 6 hours of tutoring, 3 hours of class and 2+ hours of commuting (and possibly swinging by job #1 to drop off paperwork if time permits) I'm gonna want something sweet :)
Short on greens/veggies in general which is sad :( But a fairly balanced day of eats regardless. Happy
Wednesday!
What's your favorite comfort food from childhood?