Hey Guys, Happy Hump Day! Like every Wednesday I'm linking up some veggie love with
Jenn
over at Peas and Crayons (be nice and say hi to as her, she is wonderful enough to host!)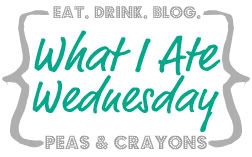 This week I am featuring my day of Tuesday eats, and I have to say there is a LOT of spinach involved... like double the usual amount. It's crazy green and crazy good :)
(spicy spinach hummus wrap, spinach tomato quiche, more cranberry ginger muffins, a little Culver's treat, green breakfast smoothie)
I started the day with a big green smoothie (spinach, banana and water) on my way to class. I've grown fond of a lighter start to my day, I feel that it helps me keep a clear head and it definitely makes my morning workout (yes I've finally been at it again) feel better.
I munched on an apple and almond butter and another one of these muffins mid-morning (to keep awake during my 4 hour class).
Lunch was this delicious wrap! I picked up some new GF teff tortillas from The Tortilla Factory at the store this weekend, I think I may like them better than the Rudi's ones I was eating before :) This wrap has my spicy red pepper "hummus" (the story on that mess tomorrow), more spinach, carrots and tomatoes. It was a fresh, veggie-licious way to break for the afternoon.
I had a meeting with my clinical adviser yesterday evening, so I was stuck at the clinic for the 4 hours between the end of class and the start of that meeting. Fortunately there were plenty of other girls down there with me, and by the middle of the afternoon we decided we needed and ice cream break.
I wasn't feeling the flavor of the day at Culvers so I got a lemon ice instead, topped with raspberries it was a perfect sweet and sour treat.
Dinner was a slice of this quick and easy quiche, filled with tomatoes, sharp cheddar cheese, and you guessed it more spinach! These babies are a staple in our house for quick dinners because they come together quickly and can last in the fridge all week and still taste delicious.
(don't mind the dark photo, I was HUNGRY!!)
There may (or may) have been a glass of wine involved as I sat down to complete my homework last night :)
What's your favorite thing you've eaten this week?