Hey guy, it's Wednesday which means I'm hanging out with all the cool kids at
Peas and Crayons
sharing waayy too much info about what I had to eat. Seriously go check the party out, you know you want to.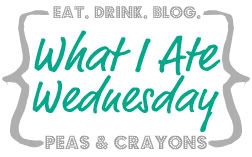 (Thanks
Jenn
for hosting)
Since I'm still in recovery mode from finals/visiting the BF/diagnostics (you know life) I decided to pull together the pictures I had and share with you some of the goodies I had to eat while studying.
Clockwise from top: Greek salad, popcorn "trail mix", celebratory champagne, corn and black bean salsa, green vanilla goodness smoothie, black bean tostada (with a side of dysphagia notes)
Nothing is better than a 5 inch stack of notecards on swallowing disorders, right? I'm the only one I know of crazy enough to actually try and study that material while eating... At least my tostada looks happy.
Finals usually send me into a "I want to put everything in my mouth NOW" kind of snacking frenzy... seriously I could put down a box of Honey Nut Chex like it was nothing during finals week in undergrad. Actual meals are shifted aside for a constant stream of snacks. I just have a need for constant crunching while trying to cram info into my brain (anybody out there have the same needs?)
Thankfully I have moved on to more exciting and delicious snack combinations, like this popcorn "trail mix". Though I still probably munched my way through 2-3 batches of this :)
(air popped corn with honey/coconut oil, dried cranberries, raw almonds and salt)
I switched it up with a few liquid snacks as well.
(apparently you CAN'T bring food to the library? weird)
But the best thing I snacked on all week was this
(seriously does it get better?)
I made up a quick batch of this black bean and corn salsa for a snack with a little more nutritional punch. I also wanted to enjoy a little taste of summer while I was stuck inside with my highlighters. I brought the little bit I hadn't eaten with me when I went to visit the BF over the weekend and we put it in omelettes and tostadas, and enjoyed every bite.
Corn and Black Bean Salsa
Makes ~4 cups
Time 5 minutes, rest time 30 minutes
2 cans black beans, rinsed and drained
1 can diced tomatoes, partially drained
1 1/12 cups frozen corn
1/4 red onion, diced (feel free to add more if you like it)
2 TBSP chili powder
1 tsp cumin
salt and pepper to taste
Combine all ingredients in a large bowl. Let sit uncovered on the counter for at least 30 minutes to thaw the corn and allow the flavors to meld. Store covered in the fridge for up to a week.
What's your favorite thing to snack on when you can't stop stuffing your face?