Hey guys, welcome (as usual) to What I ate Wednesday! A big thanks goes out to the lovely
Jenn
for hosting the party!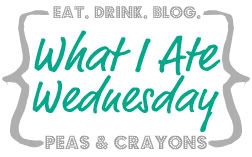 With the month of April officially over I thought I would use today as a little summary of what I ate this month :) This month has been all over the board in terms of food. From my usual eating habits, to a strict anti-inflammatory diet, to this week of (sort of successfully) starting to reintroduce foods I feel like this place has been all over the board.
There have been lots of smoothies
Lots and lots of greens
( I lost track at 8 bags of spinach)
And a good amount of quinoa
Overall I've felt cleaner and lighter and I have certainly reduced my headaches. The verdict is still out on whether or not dairy can come back to stay, but I've done okay with corn, peanuts, and eggs so far.
I know none of this is new food for you guys (sorry!) but it's kind of cool for me personally to be able to look back over the month and really see the difference in the food, that seems to be making such a difference in my body :)
What's your favorite thing you ate this month? (as if you could pick just one)