Hay guys! Happy hump day :) It's time for the weekly-veggie centric party (though lets be honest every day has been a veggie day around here lately) over at Peas and Crayons.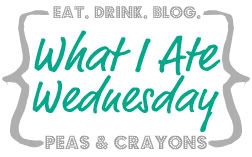 This week marks week two of my clean/anti-inflammatory/allergen-free diet. I've been feeling pretty good (one bad headache, but that may of had more to do with hitting my head HARD in my therapy session) and my MRI came back "typical with the exception of thickened mucosal lining on the maxillary sinuses" (so basically I have snot in my head). Woot!
I'm not gonna lie I'm excited to add dairy back in next week and see how my body reacts (hopefully favorably because I'm craving yogurt AND cheese pizza), but for now enjoy another week of my wanna-be vegan eats :)
Here's what I have packed in my lunchbox for today.
Green smoothie
(to be chugged down somewhere between my commute and my first client)
Apples, carrots, celery and sunbutter
(a variation of my go-to quick snack)
Salad in a jar
(from my food prep this weekend)
Cookie Dough Balls
(because a girl can never have enough balls!)
Very Berry Smoothie
(better than coffee for an afternoon pick-me-up)
I had every intention of making fajitas, and then I remembered that those really require to much coordination for the first part of my week. Monday-Wednesday I can be found eating lunch while taking notes in class or organizing my materials before my therapy session... That means I need something I can quickly put back (preferably with a spoon or fork).
So instead I made the fajita filling (with all the veggies diced instead of sliced) and put it over quinoa. Ta-da updated beans and rice!
I still decided to share the filling recipe with you (I'm nice like that) and I'll leave it up to you to decide
how you want to eat it, all I promise is that it's tasty.
Black Bean Fajitas
Serves 3
Time 15 minutes
1 Green bell pepper, diced OR sliced
1 Yellow bell pepper, diced OR sliced
1/2 yellow onion, sliced OR diced
15 oz (1 can) black beans, rinsed VERY WELL
2 cloves garlic, minced
1 TBSP olive oil
2 tsp Cumin
1 TBSP chili powder
Quinoa, rice, or tortillas for serving
Wash and chop all your veggies and mince the garlic. Heat the oil in over medium heat in a large skillet. Saute the onions 3-4 minutes until translucent, add the garlic and stir constantly for 1 minute until fragrant. Add the beans, peppers, and spices and saute 3-5 minutes more until tender. Serve over rice/quinoa or wrapped in your favorite tortilla.
These would be awesome topped with sour cream, queso fresco, guacamole (or really any traditional fajita toppings). I had none of those and still found this to be deliciously spicy :)
Last but not least I am looking forward to another bowl of this when I get home (a drink would be nice too but let's not go too crazy!)
(topped with coconut oil, honey, and sea salt)
Be sure to stop by Jenn's to show her some love for hosting again this week.
What do you do when you realize a recipe won't work as planned?
What's your favorite snack food to treat yourself with after a long day?