Hey guys, happy Wednesday! This week's What I ate Wednesday party is a little bitersweet, make sure you swing by Peas and Crayons to give
Jenn
some love (she really really needs it)!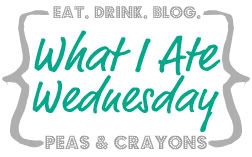 This week I'm featuring all the Crazy Sexy clean things I have packed up in my lunch box!
(good stuff!)
Breakfast was a smoothie (as usual lately, I know). I wanted to change it up a bit from my usual green one though and I have to say this bad boy hit the spot. The combination of the frozen fruit and protein powder gave it a consistency and a sweetness reminiscent of a Jamba Juice. And I still stuffed enough spinach in there to get me going (and to try and make a dent in all the spinach I picked up, it was on SUPER SALE at the store this week).
For lunch I packed what was supposed to be a wrap (but my tortillas were a little to stiff). So instead it's a hummus, spinach, and carrot sandwich (on a Rudi's GF tortilla). Don't judge me it will still be delicious.
Dinner is more leftover veggie-fried quinoa (recipe tomorrow!) I've been eating this as leftovers since Monday and I'm not sick of it yet... that's a good sign right?
I also have an apple with almond butter (unpictured) and my usual mugs of herbal tea (also unpictured) to get me through class. I know it's only been a couple days since I started this cleaner diet, but it's been a couple of days without headaches so maybe all these healthy people are on to something after all.
What's your favorite way to use spinach? (seriously I have a ton!)