Hey guys, welcome to another What I ate Wednesday! Thanks as always to the
lovely
Jenn
at Peas and Crayons for hosting this link up party :)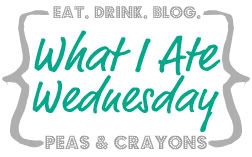 This week I've got a bit of a theme
(aren't they pretty?)
I've already shared with you that I'm working to clean up my diet this week (minimizing my intake of dairy and meat). What I didn't realize when I started was that all this veggie based goodness would travel so well in my favorite jars :)
I've been enjoying a green smoothie on my commute each morning. I haven't decided on a favorite yet (I'm new to all this green for breakfast!). But each one has had a fruit (banana or green apple) some greens (spinach or romaine) and some liquid (either OJ or cucumber). I'm trying to keep it a 2:1 ratio greens to fruity stuff, and I whip up a fresh batch with my (...okay my dad's) immersion blender each
morning.
(gotta have your veggies)
Lunch has been more liquid goodness in the form of a protein shake. I picked up a vegan, vanilla protein powder over the weekend (and it's been a learning curve getting it to mix to a palatable consistency) but I now have a vanilla-chai shake that can rival my favorite Starbucks latte.
(looks like a latte, right?)
Dinner has been either stir-fry veggies over brown rice or a quinoa/millet loaded with fruits/veggies. Today's batch is topped with frozen berries from my bag in the freezer and a handful of chopped walnuts. I like the convenience of pulling the berries straight from the freezer in the morning and letting them thaw over the grains. This also lets the grains soak up that berry, juice, deliciousness negating the need for any added sweetener.
(fruits are good too!)
I've also been snacking on lots of carrots, apples (if they don't make it to my morning smoothie) and popcorn. Oh how I wish I had a picture of my popcorn (topped with coconut oil, salt/pepper, and nutritional yeast) but sadly I seem to chow it down almost as fast as I can make it. Next time!!
Be sure to hop on over to Peas and Crayons to see what everyone else is bringing to the party this week. And check back tomorrow for this weeks 30x35 photos :)
Anyone else think food tastes better when you put it in a cool container (like a jar)?