Hey guys, it's Wednesday and you know what that means...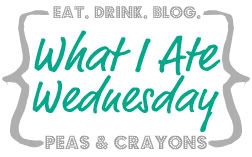 As always thank you to the lovely Jenn for hosting this little party :) My client is out on spring break this week so this is coming much earlier in the day than usual (think of it as a "what I plan to eat Wednesday" as opposed to what I've already eaten).
(lots of goodies in there today!)
Breakfast was a bowl of my latest grain/cereal concoction. This week is quinoa and millet (cooked with ginger, cinnamon and clove). I topped the whole bowl with a big old dollop of my favorite 0% Chobani, a handful of chopped walnut, a few tart dried cherries and a drizzle of honey. Full of protein, good fats, and whole grains this breakfast felt a lot more special than it actually is.
(look at all that goodness)
Lunch is a plain and simple salad of romaine, baby spinach and cucumbers. There's a side of my favorite buttermilk ranch for the top and some sunflower seeds to add protein, fat and crunch!
(and it just looks so pretty in its little box)
Dinner is the really exciting (for me at least) meal, baked potato bar!! I know, I know, when in doubt I pack a potato. They're so easy for a grab and go lunch it's hard not to. I've got everything I need to load this up right later (and it only took me a minute to pack up!) There's a little butter (with the salt and pepper mixed in), chopped green onions, and more of my favorite plain yogurt (seriously sub it out for sour cream some time, you'll thank me later!)
(easy and tasty, it doesn't get any better)
I also have my usual baby carrots and apple with peanut butter to snack on throughout the day, a girl's gotta have her snacks! All I can say is I have a tasty day all packed up for myself and knowing that makes everything else a little bit easier.
Don't forget to check back tomorrow for the first post of this month's 30x35 challenge!